Nova Scotia's Regional Enterprise Networks – April/ May 2021 Update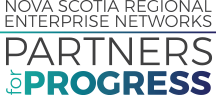 Discussion With Provincial Government Leaders On COVID-19 Restrictions And Supports
With the surge in COVID-19 cases across Nova Scotia in April/May 2021, new required Public Health restrictions that affect our residents and our businesses had been announced by the Government of Nova Scotia.
In response, Nova Scotia's Regional Enterprise Networks, together with the Province of Nova Scotia, was proud to host a conversation about the restrictions and the supports available for businesses on May 18.
The virtual event included an important conversation with senior leaders from a number of Government of Nova Scotia departments, including the Department of Inclusive Economic Growth, Department of Labour and Advanced Education, and the Department of Health and Wellness.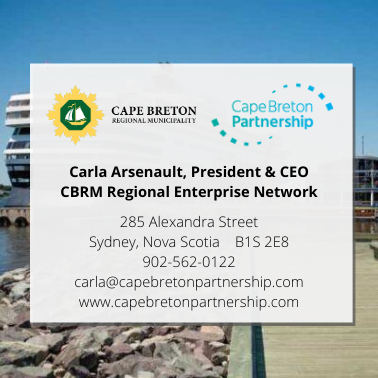 CBRM ForwardThe CBRM REN, through the Cape Breton Partnership, has partnered with the Cape Breton Regional Municipality to engage residents, business owners, community groups, developers, and investors to build an integrated approach to Community Planning and Economic Development. CBRM Forward is an engagement effort to develop a new CBRM Economic Development Strategy, Municipal Planning Strategy and Land Use By-laws.
Together these plans will prepare the municipality for sustainable growth and success, and will also promote to the world that Cape Breton-Unama'ki is a dynamic, progressive, and attractive location for our current and future citizens to live, work, study, and invest.These strategies will help address current and anticipated challenges facing CBRM such as climate change, an aging population, and an evolving economy. CBRM Forward intends to identify shared community values and priorities to guide the strategies. Community insight is critical throughout the two year process and total of 5 documents will be created: Economic Development Strategy, Growth Management Study, Municipal Planning Strategy, Lund Use By-law, Subdivision By-law.

For more information, or to participate in the engagement visit www.cbrmforward.ca.
Supporting the Creative EconomyThe CBRM REN and the CB REN have also been steadily supporting the creative economy on the Island. With the support of the Cape Breton Partnership, 16 creative sector organizations have launched a video campaign to advocate for the importance of ongoing support for arts and culture during the pandemic and into the future. The initiative is intended to spur public and political action that will protect the creative sector, which is still in critical need of support in order to overcome the impacts of COVID-19. The advocacy video emphasizes the pandemic's particularly devastating effect on arts and culture.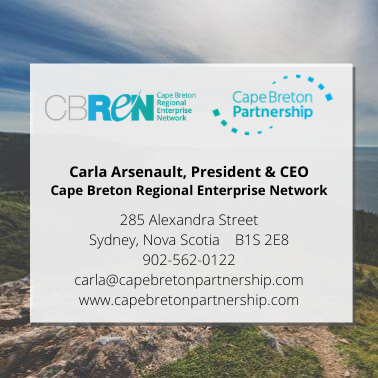 Cape Breton Local Immigration Partnership releases report on community consultationsThe CB REN and the CBRM REN have supported the Cape Breton Local Immigration Partnership (CBLIP) in the development of a report of findings from its recent community consultation regarding gaps and opportunities related to newcomer settlement in Cape Breton-Unama'ki.
The CBLIP, a collaborative, community initiative designed to foster welcoming and inclusive communities, engages both newcomers and the broader Cape Breton community in an in-depth consultation every second year. In January and February of this year, the CBLIP reached out to newcomers and the community at large through surveys, interviews, and focus group discussions. More than 300 participated. Read the full report here »
The Cape Breton Special Events Task Force
The CB REN's Creative Economy Development Officer has supported the launch of a new taskforce supporting the creative sector in Cape Breton – Unama'ki.

In 2019, the Nova Scotia Office of Regulatory Affairs and Service Effectiveness held stakeholder sessions across Cape Breton-Unama'ki as part of a Regulatory Modernization Pilot. These sessions revealed that the regulatory process can be challenging for local festivals and special events. Recently, the Office of Regulatory Affairs and Service Effectiveness partnered with the Cape Breton Partnership, through both the CBREN and the CBRM REN to support the task force.

The Cape Breton Special Events Task Force is a resource for both new and existing special events and festivals across the Island. To learn more about the Cape Breton Special Events Task Force, visit the CB SETF webpage.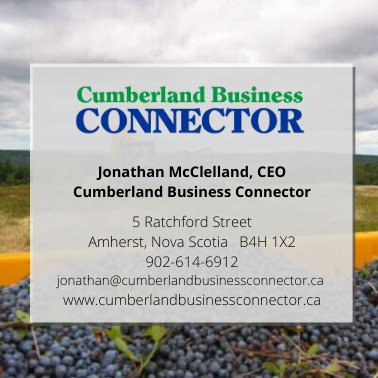 Rollout of Enzebra, an Enterprise Management System
The Cumberland Business Connector is pleased to support the rollout of Enzebra, a locally-developed Enterprise Management System to six local businesses in May, 2021. Enzebra is a modular software that is customized to each businesses' unique needs. It automates customer ordering, tracks inventory and production, and shipping and billing. It integrates with Quickbooks / Sage accounting programs to minimize data entry.
Ezebra provides companies with improved customer relationship management tools. Less manual data entry reduces human error and waste. The ability for small businesses to track Key Performance Indicators in real-time, is critical for informed management decisions. This system will lead to reduced waste, as well as better inventory management and allocation of staff time.

One of the first businesses to implement this software is a retail-focused business. The ability to integrate contactless ordering and curbside pickup has allowed them to pivot overnight during lockdown. This quick pivot to online ordering is credited by the owners with saving the business from bankruptcy.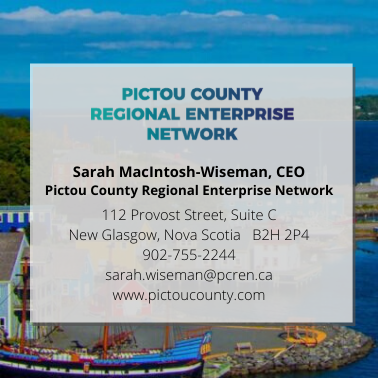 MIT ProgramThe Pictou County Regional Enterprise is leading a local team of 10 business leaders through the MIT Regional Entrepreneurship Acceleration Program –Nova Scotia (MIT REAP-NS). This program provides opportunities for communities around the world to engage with MIT in an evidence based, practical approach to strengthening innovation driven entrepreneurial ecosystems. Locally, this skilled cross-sector group of business and education leaders will be implementing a project that will strengthen the business ecosystem in Pictou County.
Showcasing Pictou County through Virtual RealityThe Pictou County Regional Enterprise Network has been working with NSBI and local businesses to create an immersive, informative, and interactive experience of Pictou County through virtual reality to aid in Nova Scotia's investment attraction efforts. Pictou County will be part of the Nova Scotia wide attraction video, and additionally, will have its own video showcasing a sample of the various "makers" and "industries" that call Pictou County "home."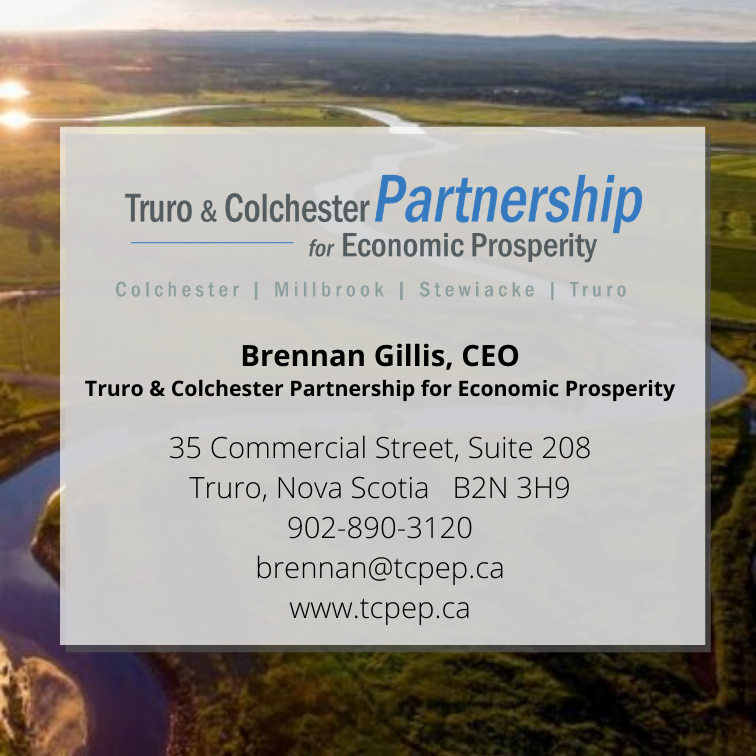 Encouraging New Business Ideas
The Truro & Colchester Partnership for Economic Prosperity and CBDC NOBL are collaborating to host new monthly Business 101 information sessions in the Truro Colchester region.

The sessions are designed to help aspiring entrepreneurs explore new product/service ideas while learning basic business start-up fundamentals.
The new monthly start-up sessions will be virtual, and they are designed to make idea generation supportive and constructive while focusing on customer validation. The sessions are also an opportunity to connect aspiring entrepreneurs to local resources and support services in the community.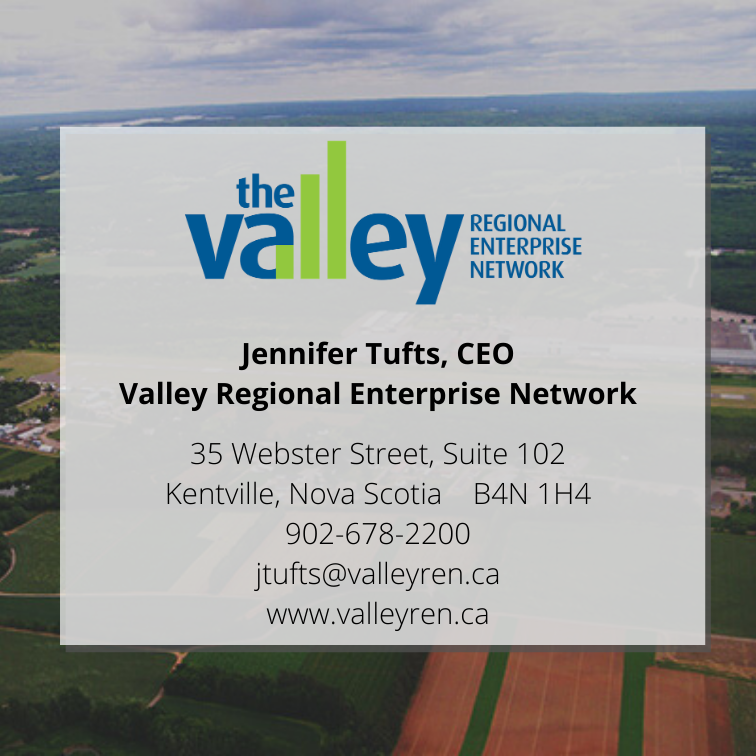 Regional Workforce Development Strategy
The Valley REN is working with partners on the creation of a Regional Workforce Development Strategy that is a forward-thinking, multi-year plan which will assess current labour needs in the region and build an understanding of future needs.

A critical component of this strategy is surveying, which seeks input from local stakeholders, employers, job seekers, high school and post-secondary students regarding workforce opportunities and challenges across the Annapolis Valley region.
The completed strategy will be available in September. To follow updates on the strategy, please visit: http://www.valleyren.ca/workforcestrategy/

Business Retention and Expansion Program
The Valley Regional Enterprise Network (Valley REN), in partnership with the Municipality of the County of Kings, is working on a strategic Business Retention and Expansion (BRE) outreach program to support and identify opportunities for businesses in the Annapolis Valley. The Valley REN is conducting a series of interviews with businesses, that will provide the REN and its partners with an overview of the business climate of the region, by identifying trends, challenges, and opportunities.

BRE promotes job growth by helping communities learn about issues as well as opportunities for local businesses and sets priorities for projects to address these needs.

For more information about the Business Retention and Expansion (BRE) outreach program visit: http://www.valleyren.ca/businessnow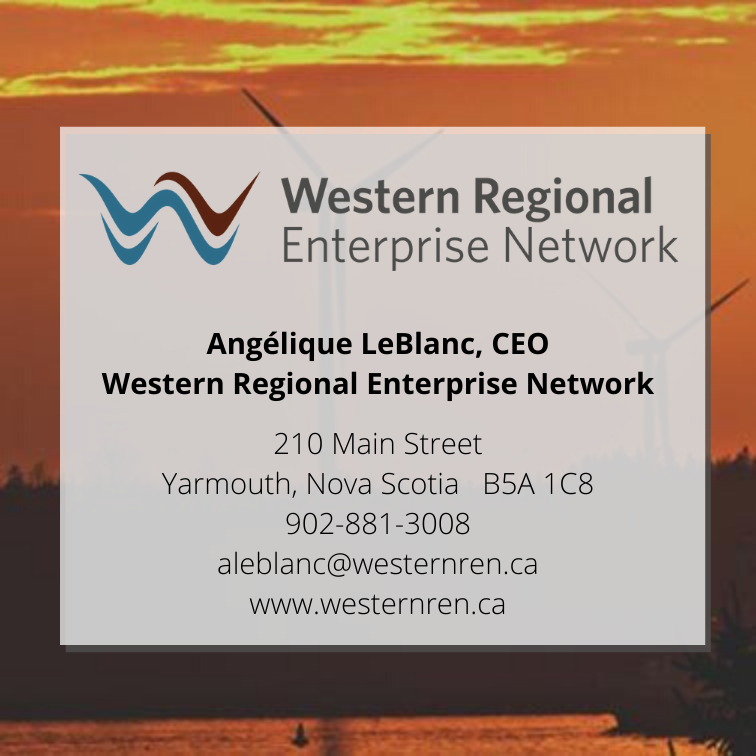 The Western REN's Continuous Improvement program
In businessThe Western REN's Continuous Improvement program, time is money helps identify and reduce wasted time, energy, materials, and more.

The Western REN has completed 19 projects since February 2020, with positive feedback from participants. These projects were completed at companies such as The Lobster Trap Company, Gidney Fisheries Ltd., Tri-County Diesel Ltd., and Synergy Seafood Ltd.
Examples of results from a just few of these one-week projects include: Production line capacity on doubled without the addition of equipment or personnel, Reduced invoice-processing time from over 30 days to less than three days.Improved processing line layout, greatly reducing wasted time and improving efficiency.This program has proven to be an important opportunity for businesses within the region. The one-week projects permitted an excellent view of how the program could improve their firm's operations and the importance of a CI the mindset.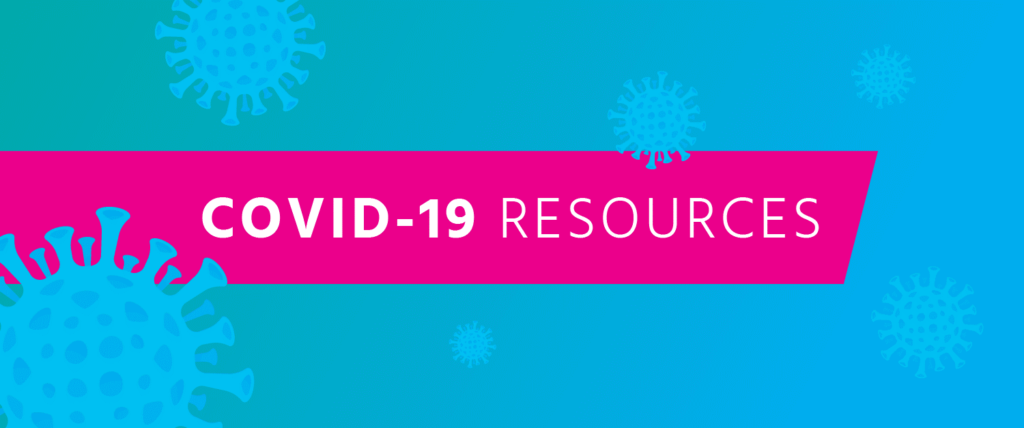 As COVID-19 continues to be at the forefront of concern in our province, we have compiled some helpful resources to help keep you informed about the latest restrictions, public health measures and government funding and grants available to help businesses across our province.
COVID-19 Resources
Nova Scotia's reopening plan
Nova Scotia's five-phase reopening plan was announced on Friday May 28.
Click through to read more about each phase, with details about each sector and activity. https://novascotia.ca/reopening-plan/
COVID-19 fact sheet
The province's fact sheet about the COVID-19 vaccine and how to get it has been translated into Arabic, Cantonese, Farsi, Mi'kmaq, Nepali, Somali, Spanish, Swahili, Tigrinya, and Traditional Chinese.
It is available in these 10 languages, as well as English: https://novascotia.ca/coronavirus/resources/#vaccination
The French fact sheet can be found here: https://novascotia.ca/coronavirus/resources/fr/
Centralized COVID-19 line and email
Effective today, the Nova Scotia Health has a centralized COVID-19 information line and email. If you receive public inquiries that are related to services Nova Scotia Health services (including testing, exposure notices, and COVID-19 case management), you can direct them to:
Toll-free: 1-800-430-9557
Email: covidquestions@nshealth.caIn-person classes to resume in most regions, licensed child care returns to full capacity
In-person classes will resume Wednesday, June 2, at all Nova Scotia public and private schools outside of Halifax Regional Municipality (HRM) and Sydney. Also on June 2, licensed child-care centres and family daycare homes across the province can return to 100 per cent capacity.

For more details: In-person Classes to Resume in Most Regions, Licensed Child Care Returns to Full Capacity – Government of Nova Scotia, Canada

Ages 12 TO 19 now eligible for COVID-19 vaccine appointments
COVID-19 vaccine appointments are open to booking provincewide for people aged 12 and older.

For more details: People Aged 12 to 19 Now Eligible for COVID-19 Vaccine Appointments – Government of Nova Scotia, Canada

Provincial COVID-19 website: https://novascotia.ca/coronavirus/
Provincial News Releases – www.novascotia.ca/news
Government of Canada: https://canada.ca/coronavirus

The COVID-19 self-assessment https://covid-self-assessment.novascotia.ca/

To watch live and previous webcasts:
visit: https://www.youtube.com/playlist?list=PLwLZ9YtgHtLCpATUVFKVf72xyF103eHaE

Business Navigators: More information on this service is available https://novascotia.ca/regulatoryopportunity/business-navigators.asp. Navigators are available by calling or 1-844-628-7347 , 902-424-4475 Monday through Friday 8:30 am to 4:30 pm or by email BusNavigation@novascotia.ca

The Mental Health Provincial Crisis Line is available 24/7 to anyone experiencing a mental health or addictions crisis, or someone concerned about them, by calling 1-888-429-8167 (toll-free)

Mental Health Foundation of Nova Scotia: https://www.mentalhealthns.ca/

For help or information about domestic violence 24/7, call 1-855-225-0220 (toll-free)

Province of Nova Scotia Mental Health and Addictions: https://novascotia.ca/dhw/mental-health/

Government of Canada Safe Restart Agreement: https://www.canada.ca/en/intergovernmental-affairs/services/safe-restart-agreement.html

Nova Scotia Health Authority Mental Health and Addictions services: https://mha.nshealth.ca/en

IWK Health Centre Mental Health and Addictions: http://www.iwk.nshealth.ca/mental-health