Nova Scotia's Regional Enterprise Networks – Fall 2021 Update
See below for some recent updates from each of Nova Scotia's Regional Enterprise Networks.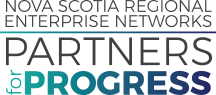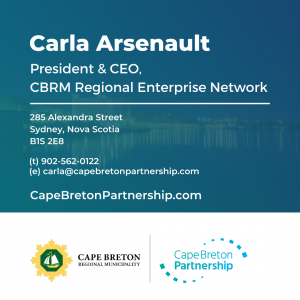 Employment Innovation Symposium for Employers and Managers a success

On November 25, 2021, together with Navigate Startup House, the Cape Breton Partnership co-presented the Employment Innovation Symposium for Employers & Managers at the Holiday Inn Sydney.

The symposium featured presentations and discussion on a number of topics focused on approaches to finding, attracting, hiring and retaining talent that employers are seeking.
The keynote speaker, corporate trainer, and author, Eddie LeMoine delivered a compelling talk, educating attendees about how to apply innovation to their human resource practices as they navigate labour shortages and other challenges.
New Breakfast & Business Series Launched
On November 9, together with Futurpreneur Canada, the Cape Breton Partnership hosted its first Breakfast & Business Event at the Port of Sydney.

David Eisnor, from Futurpreneur Canada shared services available for entrepreneurs. The Partnership's Economic Development Director, Tyler Mattheis and Business Planning Advisor, Shannon McNeil also shared the importance of business planning and how the Partnership can help established and new entrepreneurs.

The goal is to host Breakfast & Business in a new community across Cape Breton – Unama'ki on a regular basis.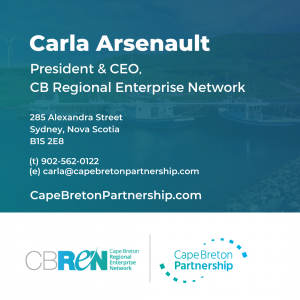 New campaign promotes welcoming and inclusive communities: Belonging is for Everyone

On November 18, the Cape Breton Local Immigration Partnership (CBLIP) officially launched a new campaign – Belonging is for Everyone.

Belonging is for Everyone explores the roles that everyone can play to help newcomers feel that they belong and are part of the fabric of our communities.
The campaign will feature the faces of some of Cape Breton's newest citizens, including Amrinder Singh, a former Cape Breton University international student from India who has chosen to remain in Cape Breton.

Working closely alongside the Cape Breton Welcome Network, the campaign will also offer practical ways that longtime Cape Bretoners can help newcomers build that sense of belonging.

Details on the Belonging is for Everyone campaign are available at: https://welcometocapebreton.ca/belonging.
Introducing A'paqt Place/ Ocean Innovation Centre in the Town of Port Hawkesbury

On November 12, with project partners from the Town of Port Hawkesbury, NSCC Strait Area Campus, and Nova Scotia Community College, the Cape Breton Partnership introduced the oceans sector and a number of community and industry stakeholders to A'paqt Place/ Ocean Innovation Centre on the Town of Port Hawkesbury's waterfront.

The event included a facilitated discussion about the opportunities to grow the sector and innovation-driven enterprises in the region and tours of the facilities. Congratulations to all project partners on the progress of this modern facility and the positive change it will bring to the region.Reducing red tape regulatory modernization survey for Cape Breton business owners
The Cape Breton Partnership, together with the five municipalities in Cape Breton – Unama'ki (Cape Breton Regional Municipality, the Municipalities of the Counties of Inverness, Richmond and Victoria, and the Town of Port Hawkesbury) are asking businesses to fill out a survey about the impact of municipal red tape with the goal of reducing it, including by aligning municipal regulations where it makes sense.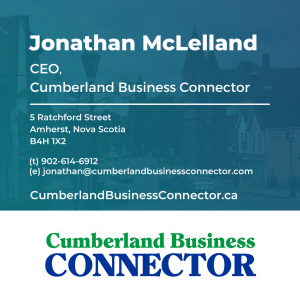 Cumberland Business Connector Update

As we are approaching the end of 2021, we can look back on a year filled with challenges and stress for business owners. In this current climate, the Cumberland Business Connector's Mission Statement is more relevant than ever. "The Cumberland Business Connector is a business led, not for profit organization whose focus is to foster a strong business environment in order to strengthen Cumberland County by removing barriers to businesses, and connects businesses with the resources that they need to be successful."

In collaboration with other local partners, we continue to provide workshops for businesses. From January to November of 2021, we have held 15 workshops for the general business community.
Additionally, we have held five workshops specifically for tourism related businesses. More workshops are planned for the winter and spring of 2022.

Our Business Accelerator Program continues to help businesses identify their weaknesses and put plans in place to mitigate them and become well positioned for growth. One of our Accelerator clients, Enzebra, this year has taken their software through beta-testing. Their software consolidates businesses' productivity software, such as customer relationship management software and accounting software. They have since placed second in Northern Nova Scotia in the Spark Nova Scotia Start-up Competition.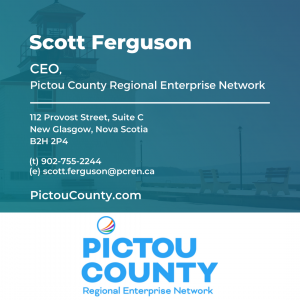 PCREN names its new CEO
The Pictou County Regional Enterprise Network (PCREN) has named Scott Ferguson its new Chief Executive Officer (CEO).Ferguson brings more than 30 years of experience in economic development. Most notably, he was CEO of the World Trade Centres Association (New York), a global association dedicated to the effective operation of World Trade Centers (WTCs) as instruments for real estate investment and international trade.
Ferguson also held the role of President & CEO of Trade Centre Limited, an organization that operated the World Trade Center Halifax, Scotia Bank Centre, and the Halifax Convention Centre.
Small Business Week
During Small Business Week, October 17 to October 23, the PCREN released a series of 'Support Local' and 'Get to know your business community' social media campaigns and held a business social.The social in partnership with the Town of New Glasgow, Nova Scotia Works, and IGNITE labs provided one of the first opportunities for local business leaders to connect in person since the beginning of the pandemic.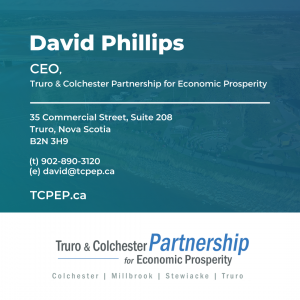 Truro Colchester Partnership for Economic Prosperity (TCPEP) Update

TCPEP is working with our municipal stakeholders to devise a pan-regional, collaborative approach to marketing and selling space in our six industrial parks. This approach represents a paradigm shift within the community. Working together to tout the strengths and assets that we offer as a region, design an industry-based schematic regarding what types of businesses go where, and collaborating on marketing and sales activities will take our commercial business development efforts to the next level.
Recent work completed by both TCPEP and the Downtown Truro Partnership in seeking to better understand consumer needs and demands within the community will enable us to become much more intentional in seeking to attract or build new retail, services and activity-based businesses, with a view to establishing the Truro Colchester area as a stand-alone businesses ecosystem, rather than a bedroom community of Halifax Regional Municipality.

Housing and workforce development continue to present barriers to growth, and TCPEP is hard at work with our partners to address these issues. A developer focus group is scheduled for January to help us figure out how to smooth the path and remove barriers for developers, and stimulate housing growth. Regarding our labour needs, in the last couple of months, TCPEP, through our Connector, has participated in two highly successful job fairs.

And we are in the process of conducting a skills gap audit to identify and quantify specific skills gaps that are inhibiting growth in the community. Taken together, all these efforts will enable us to accelerate growth within the Truro Colchester region. Note: TCPEP is in the market for a fulltime BDO. If you know of anyone who may be qualified and interested, please direct them to our CEO. Feel free to request a copy of the role description.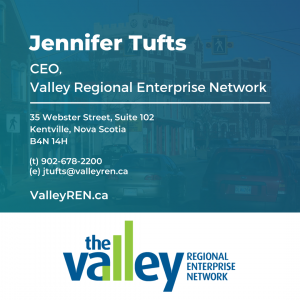 Strategic Tourism for Areas and Regions (STAR) Program Upcoming Sessions
Introducing STAR – an industry-led regional tourism development planning process to help grow the tourism economy in the Annapolis Valley.

Community consultation sessions will be held throughout the Annapolis Valley region on December 6 and 7, 2021.

At these 90-minute sessions, learn how this project will lay a foundation for responsible, collaborative, sustainable community-based tourism development for the region, meet the STAR consultant guiding the process and have an opportunity to ask questions and provide input into the Regional Tourism Development Strategic Plan.

For more information, please contact Chrystal by cremme@valleyren.ca.
Peer to Peer Immigration Event

The Western REN hosted a Peer-to-Peer Virtual Immigration event on November 17, 2021. Thirty local business owners attended the event to share their experiences of navigating provincial and federal immigration programs. There were four panelists from various businesses in the region, that shared presentations on their experiences.

Followed by the panelist presentations was a Q&A session where business owners were encouraged to ask questions and share their experiences about the immigration process regarding employers.
Get Social Safely

The Western REN Connector Program hosted a Get Social Safely- Networking event in partnership with IGNITE Atlantic and Northern Connector Program this November. Get Social Safely was the Western REN's first in-person event of 2021 and saw thirty attendees come out. The night was full of networking paired with a free headshot for those that wanted one.

While networking events have been taking place virtually for the past two years, it was great to see so many local professionals and local employers come out for a night of networking.