Nova Scotia's Regional Enterprise Networks – December/ January 2022 Update
See below for some recent updates from each of Nova Scotia's Regional Enterprise Networks.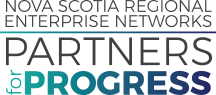 Labour Needs Survey

Assessed the impact of labor shortages and how immigration might play a role in helping fill those needs. Results: 100 per cent of responses indicated that labor shortages impact our local businesses in many ways, and 21 per cent stated that it has contributed to them considering closing. Results demonstrated a strong openness to hiring immigrants to help solve labor shortages.
Community Survey

Open to all residents to learn more about community priorities, concerns, and attitudes about immigration. Results: 100 per cent of responses indicated that our region has many opportunities and work to do to become more welcoming to newcomers. When asked if they felt immigrants are connecting with other residents of our region, only 31 per cent said yes (48 per cent were unsure, and 21 per cent said No).
Immigrant Survey

Available in English, French and Spanish, asked individuals living here who were born outside of Canada questions about their settlement and integration into our communities. Results: Only 36 responses were received, which was informative in and of itself. Our feasibility study also identified a lack of data on who is here and how to reach them. Some of the priority areas noted were access to information, a need for more provincial and federal decentralized services, and resources available in rural regions.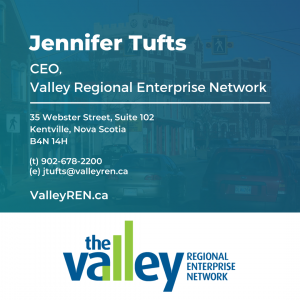 Regional Workforce Development Strategy Update

The Regional Workforce Development Strategy is complete. The forward-thinking, multi-year plan assesses current labour needs in the region and builds an understanding of future needs. Valley REN is currently reaching out to organizations to develop the Workforce Alliance to guide the implantation activities as identified in the Strategy.
STAR Program

The STAR (Strategic Tourism for Areas and Regions) Program, an industry-led regional tourism development planning process to help grow the tourism economy in the Annapolis Valley, was introduced to our region through five in-person and one online session. Over 150 participants provided their feedback and learned how the program would lay the foundation for responsible, collaborative, sustainable, community-based tourism development.

We are currently filling the last spots on the working group, which will guide our consultant through the remainder of the process. The consultant, Richard Innes, anticipates presenting his final recommendations in June 2022.
Taking Care of the Valley

The Valley REN is currently working on a women-led participatory research & design project with Pier Labs focused on designing new initiatives to integrate women's caregiving duties and participation in the local economy. The project will bring caregivers and stakeholders together to learn, generate creative ideas, and test these ideas by implementing small-scale prototypes. We aim to accomplish the following outcomes:
– Empower women caregivers
– Understand care work and how it affects the social and economic wellbeing of women in a rural region
– Increase involvement and collaboration across business stakeholders
– Develop solutions by experimenting with new ideas and diverse stakeholders
– Integrate care work into the regional economic development strategy

The project was made possible by Women and Gender Equality Canada (WAGE) through the Feminist Response and Recovery Fund.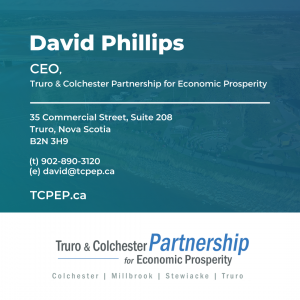 Truro & Colchester Partnership for Economic Prosperity Update

The Truro & Colchester Partnership (TCPEP) for Economic Prosperity is focusing on a number of projects that seek both to grow and accelerate our local economy, and remove barriers to growth.

Regional Business Attraction
TCPEP is promoting a pan-regionally collaborative and proactive approach to business attraction. Working across multiple municipalities, we are currently assessing the competitive strengths and assets of the region, based on factors like geographic location, affordability,

history, workforce, and existing business ecosystem. From this, we will build a marketing plan, start generating leads, and assertively push our region out to prospective business residents. Location decisions will be made strategically and in consultation with prospective businesses.
Business Development Support – TCPEP's hallmark activity has been working side by side with local entrepreneurs and business owners to build startup, growth, and export strategies, solve problems, and remove barriers. In the past month, we have provided best in class advice and strategic guidance to more than 15 businesses and startups.

Tourism
In addition to working with consultants to produce a business case for a dedicated tourism resource for the region, TCPEP is preparing for a marketing campaign enticing people to live and work in Northern Nova Scotia.

Housing
TCPEP is collaborating with the Truro & Colchester Chamber of Commerce to execute a series of focus groups in mid-February with the developer community to identify barriers to development. Based on preliminary research, we expect some of our findings to include antiquated municipal bylaws, labour shortages, and access to materials. TCPEP is also looking at educational programming to help developers understand the competitive climate with respect to labour, and help them devise strategies to attract and retain skilled workers.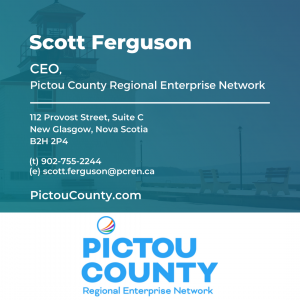 PCREN launches new site

The PCREN is preparing to launch a new website at pictoucounty.com that will be a guide to working, living, and investing in the community. The site will also host a "shop" and "eat" section intended to showcase the variety of businesses in the community from local retailers to restaurants. This project has been supported by the Pictou County Chamber of Commerce.

PCREN prepares guides to the community

Funded by IRCC, the PCREN is creating a printed guide to help individuals who are new to the community navigate community organizations and available supports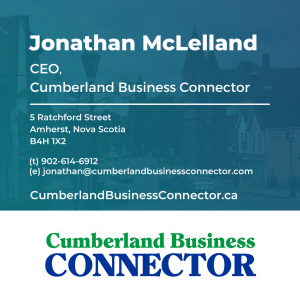 Business Crisis Management

The Cumberland Business Connector has been working with a number of businesses who are dealing with various supply chain crisis. A number of businesses are changing their business model, or are starting entirely new businesses as their existing business in no longer viable due to lack of materials. This supply chain crisis is having a significant impact on manufacturing businesses, as well as service businesses.

Business Workshops
A recent workshop was held on Creative Labour Force Solutions. This workshop highlighted many relevant programs that can help businesses tap into new pools of workers that have not been considered before. Labour Force challenges will continue to be a main focus of the Business Connector throughout 2022.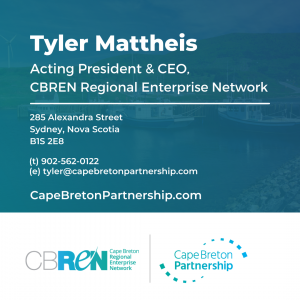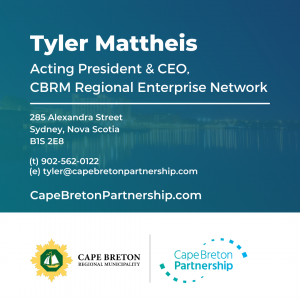 Micro-Loan Program for Local Female Entrepreneurs Renewed

In December of 2021, the Cape Breton Partnership and Sydney Credit Union announced the renewal of the Micro-Loan Program for Female Entrepreneurs in Cape Breton – Unama'ki. The program places a focus on empowering local female entrepreneurs as well as creating new businesses and employment opportunities.
All financial aspects of the loan will be managed by Sydney Credit Union and each application will be evaluated and considered on a case-by-case basis, following Sydney Credit Union's adjudication and due diligence process in making decisions to grant loans. The loans will be offered at a rate of four percent, with zero percent interest for the first six months.

In addition to coordinating and navigating the micro-loan program, the Partnership will provide access to mentors, programming, and additional resources that participating entrepreneurs might require such as business planning, support for export, immigration, economic research, and more.

The program will run for three months, or until the program funds are allocated. For more information about the program and how to apply, visit https://capebretonpartnership.com/initiatives/micro-lending-program/.