Nova Scotia's Regional Enterprise Networks – Spring 2022 Update
See below for some recent updates from each of Nova Scotia's Regional Enterprise Networks.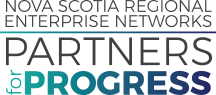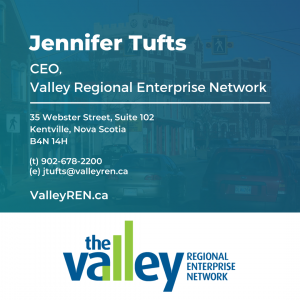 REAP (Regional Entrepreneurship Acceleration Program) Update

As part of MIT REAP Focus Nova Scotia, the Valley team has completed its last workshop and moving towards finalizing the Strategy for implementation.

MIT REAP's frameworks rest on a multi-stakeholder model. The teams include members from five key actors in innovation and entrepreneurship ecosystems: government, university, corporate, risk capital, and entrepreneurs.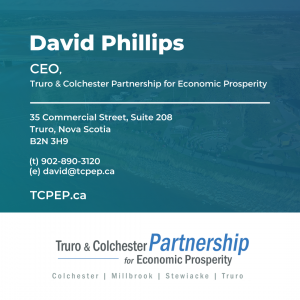 The Truro & Colchester Partnership for Economic Prosperity (TCPEP) update

The Truro & Colchester Partnership for Economic Prosperity (TCPEP) continues to place its highest priority on growing and supporting the regional business ecosystem. Our BDO works daily side by side with new entrepreneurs and business leaders to start and grow businesses, drive greater efficiency, and support export. This deep, hands-on approach to supporting business growth has resulted in greater revenue for the region, more jobs, increased prosperity, and perhaps most importantly, the realization of people's dreams of business ownership. In our effort to establish TCPEP as the preeminent agent of business growth in the region, we will undertake a campaign to increase overall and top of mind awareness of TCPEP and its various support services.

Broader community economic development efforts are underway in the form of a new collaborative, proactive approach to attracting business to the region. TCPEP, with its municipal partners, will soon launch a year long FDI pilot, supported by an AI-driven lead generation database, to actively seek out and contact businesses that may consider doing business in our region. This will involve an asset inventory, industry sector prioritization, and the production of marketing videos, prospectuses, brochures, and social media.

In our ongoing efforts to attract people to the region, TCPEP has shared our large new inventory of tourist-related images and videos with the Explore Central NS program, currently our primary tourism marketing organization. We will also leverage these resources in our own regional destination marketing activities focused on attracting skilled people to the Truro Colchester region. We will execute targeted social media campaigns for physician recruitment and other skills that are much needed in the region.

Retention of people being equally important, TCPEP is leading the charge will multiple stakeholder groups to launch the Colchester Welcome Network, a pan-regional volunteer organization that will seek to ensure that newcomers to the region, whether they be from Stellarton or Singapore, are made to feel welcome and supported by the community. TCPEP will also work with NSCC, the Apprenticeship Program, and local schools to promote skilled trades in schools. Recruiting women into the skilled trades will also be a priority.

The Housing crisis continues to be a significant barrier to economic growth across the region, and TCPEP will continue to support the efforts of the Province, Municipalities, the Chamber, and the developer community to address the challenges that inhibit housing growth.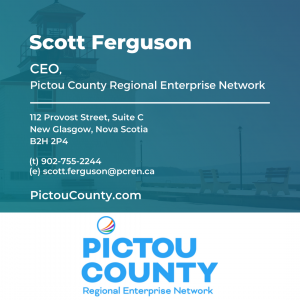 PCREN hires new staff
The Pictou County Regional Enterprise (PCREN) welcomes two new staff, David Hachey and Wes Surrett who will lead the PCRENs innovation and succession initiatives.

Hachey, who has a broad range of experiences in finance, energy, agriculture, retail, forestry, and IT will oversee the PCREN's Digital Growth and Innovation Initiatives, as its manager of Business Development and Innovation. These initiatives will support Pictou County business leaders in understanding practical applications of concepts to innovate processes, supply chains, customer interactions, and more.

Surrett joins the team with a long history of business leadership in Pictou County, serving on numerous boards including the Pictou County Chamber of Commerce. He has more than 40 years of experience as a tourism operator in Atlantic Canada in a variety of settings, including various management roles. Surrett's efforts at the PCREN will focus on continuity and succession planning for local businesses, as the manager of Workforce Development and Continuity.
How to Help & How to Hire: Responding to the crisis in Ukraine

The PCREN participated in a panel discussion with MP Central Nova Sean Fraser on Monday, March 14, 2022. This event was held in response to the current crisis in Ukraine. MP Sean Fraser shared how the Government of Canada is taking action to support Ukrainians in coming to Canada.

Becky Cowen, Business Immigration Coordinator at the PCREN shared information about the Atlantic Immigration Program (AIP), the Provincial Nomination Program (PNP), the settlement supports available locally, and the PCREN's services that support employers seeking to hire individuals from outside of Canada.

The event introduced how the Pictou County community can provide jobs and comfort to those who may arrive in our community in the coming months.
Hire Me Western

The Western REN Connector Program is hosting a Virtual Pitch Competition called 'Hire Me Western.' Hire Me Western is an opportunity for skilled job seekers in the Western Region to showcase their skills to local employers here, in the Western Region. Finding meaningful employment can be difficult, especially for those new to their fields or the region. The Western REN hopes to help residents make professional connections and secure a job in their field through this initiative.

Candidates are submitting a video pitch to be displayed at westernren.ca. There will be interactive voting for the most creative pitch, with judges to decide the top three. There are great tech prizes for the top three, along with a swag prize for the most creative. Local businesses will be able to look at all the great talent in their regions, and skilled job seekers will get a chance to put themselves out there for a future career.
Fishing for Solutions

The Western MIT REAP team is putting on 'Fishing for Solutions'- Pitch Competition. The team is posing the question, "What innovative ways can beach waste be repurposed?" Every year thousands of pounds of waste wash onto the shores of Southwestern Nova Scotia, much of it being the by-product of the fishing industry in the area. By posing this challenge to students and entrepreneurs, the goal is for them to consider commercial viability, environmental impacts, sustainable business models, and the process of bringing your idea to market while constructing their innovative way to repurpose beach waste.

Participants will bring their innovative ideas in the form of a five-minute zoom pitch to a panel of judges and submit a one-page summary of their vision to assist the judges in their process. Prizes will be awarded to the top three participants, with pitches taking place on March 30, 2022.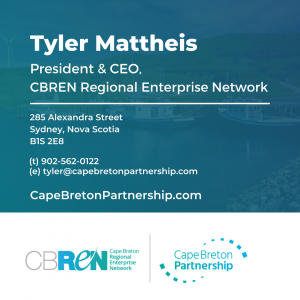 Cape Breton Partnership welcomes Tyler Mattheis as the new President & CEO

After a thorough and competitive selection process, the Board of Directors of the Cape Breton Partnership is pleased to announce that Tyler Mattheis has been selected as President & Chief Executive Officer (CEO) effective March 8, 2022.
Read more…
Ocean Farming Webinar Series

If you've ever wondered how to get started in the Ocean Farming industry, or if you're already in the industry and want to learn more, the Cape Breton Partnership, together with our partners at Nova Scotia Community College invite you to take the plunge into our five-part Ocean Farming webinar series that launched on February 17, 2022.

The series has seen great interest and engagement, and was launched in response to local community interest in sustainable development opportunities. The first three in the series are now available on the Partnership's Youtube Channel. Stay tuned to our Events page for registration details for our last two sessions in the series – Innovation & Readiness on May 12, 2022 and Quality & Capacity on May 19, 2022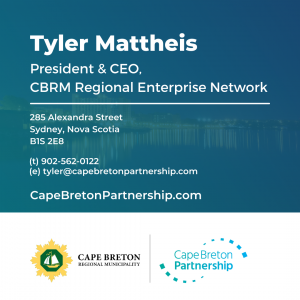 2022 Safety First in Cape Breton Symposium

The Cape Breton Partnership is excited to be co-hosting the 2022 Safety First in Cape Breton Symposium with our event partners at WCB Nova Scotia and the Nova Scotia Department of Labour, Skills and Immigration, held at the Membertou Trade and Convention Centre on Wednesday, May 4, 2022.
This event is aimed at workplace safety committee professionals, managers, human resource professionals and small business owners.

To learn more and to register, please visit: http://www.safetyfirstcapebreton.com/about-symposium.html.
Selling to Government – Procurement webinar
On February 24, 2022, the Cape Breton Partnership, through the Building Tomorrow Campaign, hosted Service Nova Scotia and Internal Services and Procurement Assistance Canada (PAC) for an informative virtual session, via zoom, exploring the topic of procurement and selling to both the Provincial and Federal Governments.